Our district is holding a Reunification Drill on October 7th, 2022 from 12:30-3:30 p.m. at White Pine Elementary and are in need of 80 volunteers. The volunteers will play the part of the student and the parent who is picking the student up. If you would like to volunteer or know of anyone that would, please send me an email to register. Gail Gallegos Finance and Safety Coordinator Cassia Jt School District 3650 Overland Avenue Burley, ID 83318 208-878-6600
galgail@cassiaschools.org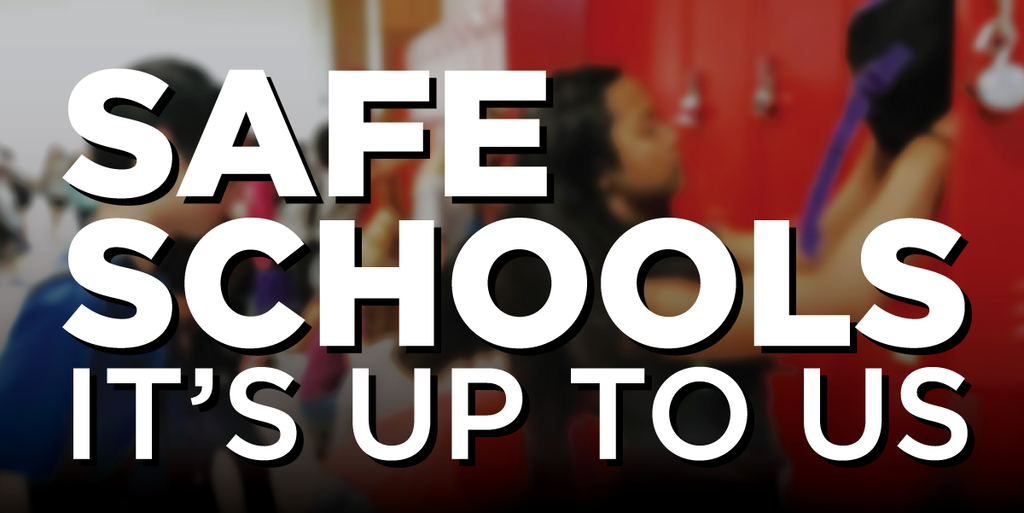 Clarifying Statement: The Board of Trustees is constantly looking at ways to improve the educational system in Cassia County and to maximize the educational experience of our students. As a result, rumors often surface about various aspects of education in our district. At this time, the Board of Trustees has not made a decision on the type of schedule to be used for secondary schools throughout the district. They are not prepared to make any decisions regarding the 7-period day or the A/B schedule and will put in the necessary time to do the proper research and seek input prior to making such a decision.
Due to weather ALL Oakley schools/buses will be IN SESSION with a 2 hour delay today, December 15.
Due to weather, one bus route in the Raft River area will not run today, December 15. That route is the Elba/Conner Creek route.
IMPORTANT ANNOUNCEMENT - WE HAVE A NEW APP!! Cassia School District has a new app! Download the Cassia County SD app by scanning the QR code or searching it in the App store or Google play today! All current communications, important announcements, alerts, and information will now run through the new app and will not be available on the old app, so make sure you download the new version and delete the old one.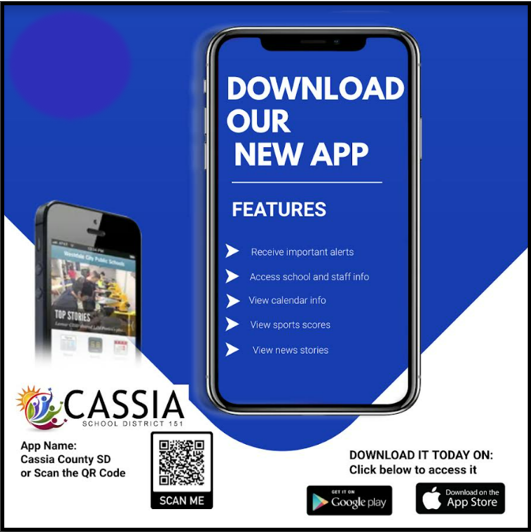 Dear Parents, During a routine inspection with the health inspector, an issue was found in White Pine's cooler/freezer. For the health of the children in the school as well as the staff, all product was discarded. The kitchen will be temporarily closed until repairs can be made. Food Service will be transporting food from Dworshak Elementary until repairs have been made. If you need any further information, you can contact me at 208-878-6626 or
rodangel@cassiaschools.org
Angela Rodriquez Supervisor, Child Nutrition Programs Cassia County Joint School District #151 3650 Overland Ave, Burley Idaho 83318 Phone: 208-878-6626
SPECIAL BOARD MEETING: There will be a Board Meeting held on September 1, 2022 at 12:00 p.m. to discuss excessive heat in school buildings and what options are available
This month's Regular Board Meeting has been changed!! The meeting on August 18, 2022 will start at 6:00 p.m. instead of 7:00 p.m.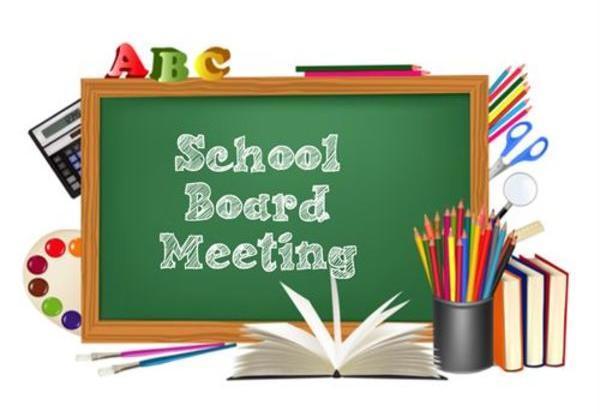 State law requires some immunizations for the start of school. For information about who, what and where, please see the attached flyer.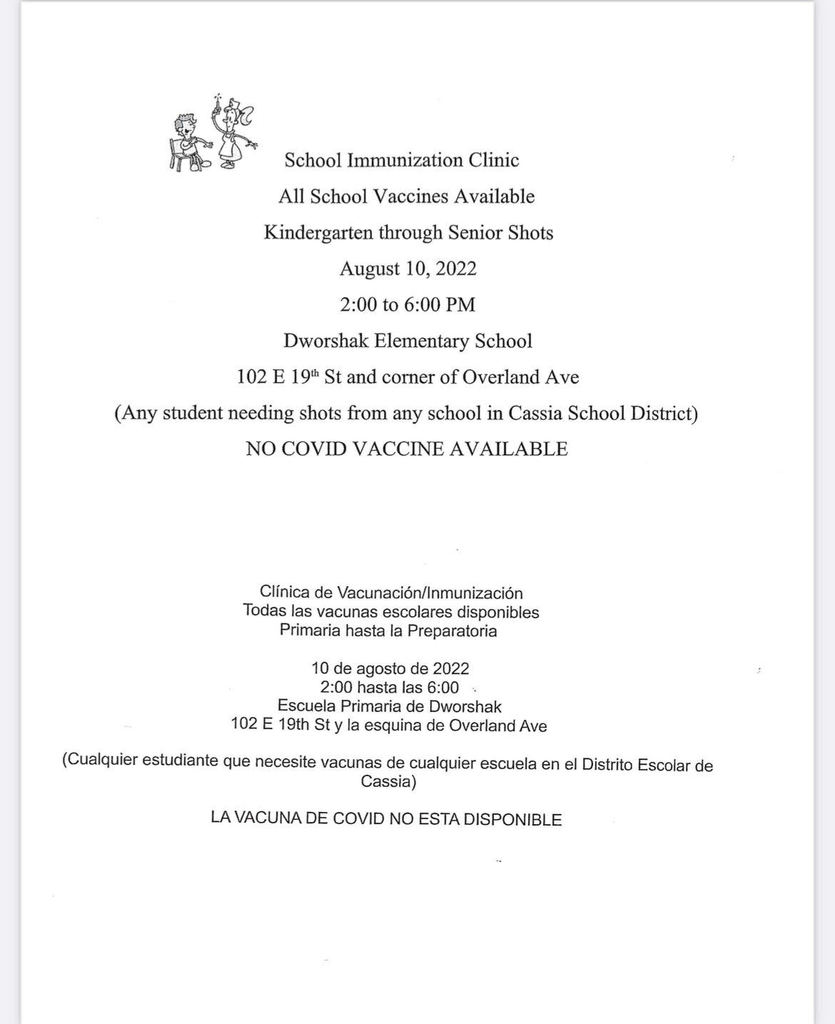 School Supplies! If you are in the supplies shopping mode, here's how to find your list. They are at stores, on doors of schools (ex: White Pine) and getting loaded to school websites. With our change of website host, we are in the process of getting them uploaded as quickly as they are available.


Attention Parents of Cassia Students: 2022-2023 School Registration As we are drawing to the end of this school year, we would like to let you know that the District has chosen a different path for registering students online for the school year (this is only to register for school and not for classes). The last few years the District has used a program by the name of Gateway. Starting in August, our District will start using PowerSchool online registration. Parents will login to their PowerSchool parent accounts to register their students for the 2022-2023 school year. More information will be sent out with end of year report cards in June. We strongly encourage parents to contact the school if they do not know their username or password for their parent PowerSchool login or if they do not have a parent PowerSchool account set up before the last day of school. Also, keep in mind school registration is required every year that a student is attending school and is expected to be completed before the first day of the school of each year. For more information, please contact your school secretary or counselor. Thank you!

We would like to welcome the following to Cassia School District in their new roles! More detailed information, on each hire, will be forthcoming! Thomas Coxson, Mountain View Elementary Jaren Wadsworth, Oakley Jr/Sr High School Brad Calvins, Cassia Regional Technical Center Branan Hardcastle, IT Director Ryan Payne, Student Services Director Deseria Leckenby, Payroll Clerk Welcome to Cassia!

Congratulations to Jaxsen Dillon, Oakley High School, who made it to Nationals in Culinary Arts. He placed 3rd at State in Boise after qualifying at Districts in Twin Falls/CSI. This is a great accomplishment and hard to do. There is a lot of competition with only 3 spots to fill for each state in the Nation! WOOT WOOT!! National Family, Career and Community Leaders of America (FCCLA) competitions will take place in San Diego, June 29-July 3.