Cassia County Education Foundation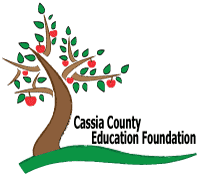 Cassia County Education Foundation was founded with the Mission of fostering a proactive partnership between the community and Cassia County School District in linking community resources with the district's academic needs, student activities, school facilities, and technology.
CCEF is recognized as a tax exempt organization under Section 501(c)(3) of the Internal Revenue Code. The Foundation is governed by a Board of Directors, all residents of Cassia County.
Articles of Incorporation
inspire students and supporting schools with innovative learning opportunities
generate and distribute resources for the benefit of the local schools to enrich, maintain, and expand programs
enrich curriculum with programs and activities that expose students to diverse learning experiences
offer community members, staff, organizations, corporations and others, a channel to contribute to education and strengthen the future of Cassia County