It's OK to say, "I need help."

Connect is a resource to help address a broad range of personal difficulties that may be causing distress. This benefit is FREE to any Cassia student grades K-12.
1-800-926-9619
What this means to you: Sometimes kids are suffering with issues that aren't easily addressed with a bandaid, a cast, or a trip to the medical doctor. Sometimes families and schools feel the effects of grief, loss, substance abuse, personal or emotional challenges, stress, anxiety, depression, etc, etc, etc. These kinds of challenges aren't easily handled by telling your child, "keep your chin up." or " things will get better". If you or your child find yourself in a position that you are saying these types of statement over and over, you may want to talk to someone with CONNECT. We are so committed to helping that we are paying for your introduction to these counseling services.
DON'T FORGET THOUGH!
Our school counselors are always available and if you aren't sure about what the problems might be and how to access help, please talk with them! This program works in conjunction with the school counselors, but you don't have to get "permission" from anyone to call. Counselors are an excellent resource at your child's school, don't forget about them! They are trained professionals with critical skills for working with students.
How it works:
Call this number: 1-800-926-9619
THAT'S IT!!!
You don't have to talk to anyone other than the person that answers the phone on the other line. They will get you going with everything that you need. You don't have to show or have insurance. You don't need to talk to anyone at the school (unless you want to!). It's all confidential. Sharing of information occurs as you need/want it to. You decide who is added to the team. A successful team usually involves both school and private counselor.
This program is designed to help students with their emotional health needs. This ultimately helps families and schools.
Connect is funded through our supplemental levy. Our community believes in this too!
Our School Board believes school safety is more than locks, door controls, video cameras and school resource officers. Prevention of behaviors that result in violence are a critical and key part of overall school safety. Good overall mental health also means student achievement, less problems at school, more positive interaction with peers and teachers.
Connect is year round and we invite you to give the number a try and see how it can help. 1-800-926-9619
Here's our parent letter that gives more information about the service Letter
And here's the poster you may have seen around your child's school Ask for help poster
1-800-926-9619.... It's OK to say, "I need help."
For questions or help, call your child's counselor, administrator or the district office at 208-878-6600 and ask for Debbie Critchfield (program facilitator)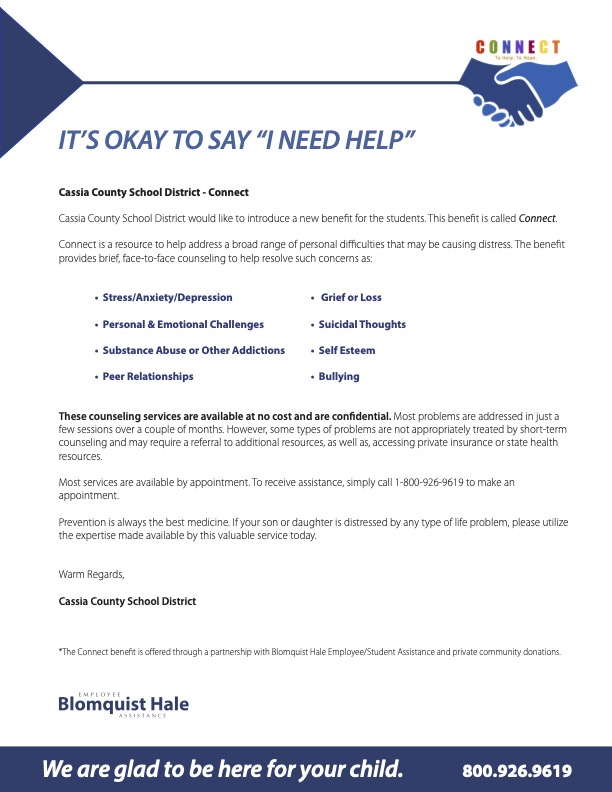 Smart Phones and Suicide
Great TED talk about smart phones, suicide and family relationships.
https://www.youtube.com/watch?v=uMb0wqTqE_4&feature=youtu.be&fbclid=IwAR3iB1Aw_fYMZjEYYPYZhbzW2ZRA32IK9UTuNzdVChfIMCAp-DBV4KULwxI
Teens & Young Adults
One the THE BEST resources we've seen on how to talk about suicide.
Mental health conditions are common among teens and young adults. 1 in 5 live with a mental health condition—half develop the condition by age 14 and three quarters by age 24.
For some, experiencing the first signs can be scary and confusing. Discussing what you are going through with others is an important first step to getting help. Speaking up and asking for help is a sign of strength. You will be amazed by the support you get simply by asking.
http://www.nami.org/Find-Support/Teens-and-Young-Adults
Parenting Teenagers: How to Talk to Your Teen About a Suicide
Suicide is a devastating event with deep and long-lasting repercussions among families and communities. As much as parents would prefer to insulate their children from such tragedies, suicide is the third leading cause of death among young persons aged 10-24 (CDC, 2015).
Following the suicide or a suicide attempt by a friend or classmate of your child, or a publicized suicide event, you may wonder how best to initiate a conversation with your teen about the tragedy. Below are some recommendations for speaking with your teenager about suicide, in the aftermath of a suicide event and ideally, in advance of a crisis.
https://med.nyu.edu/child-adolescent-psychiatry/news/csc-news/2016/parenting-teenagers-how-talk-your-teen-about-suicide
Trustee Moon Talks about the Connect Program
It's OK to say I need help! That's the message for Cassia students. Trustee Darin Moon talks about the groundbreaking district program. Connect is a resource to help address a broad range of personal difficulties that may be causing distress. Learn about the whys and hows of Connect.