PARENT ENGAGEMENT SURVEY Below is a link to our annual Parent Engagement Survey that we are asking all parents of students within Cassia County School District to fill out online. This survey is sent out and required by the Idaho State Department of Education each year to all districts in the state of Idaho. Survey results are intended to help us gain feedback and insights about each of our schools. When filling out the survey, please select the school that your child attends from the drop-down menu instead of selecting Cassia County School District itself. If you have students in multiple schools, we ask that you please complete the survey once for each of the schools your children attend. Completing the survey should only take about 10 minutes or less. We appreciate your willingness to participate! Parent Engagement Survey Link:
https://eprovesurveys.advanc-ed.org/surveys/#/action/204888/p30837
The Idaho Food Bank Mobile Pantry will be at Minico High School, 292 W 100 S, on February 25th from noon to 2:00pm. The Mobile Pantry Program distributes dry and frozen food to underserved, usually rural, communities. This program helps populations that do not have access to, or have difficulty accessing, food assistance.

No school on Presidents Day, Feb 20th. Full day of school on Friday, Feb 24th.

Early 12:30 Release Monday January 16, Martin Luther King day.

Family Night Tuesday, Jan 17th at 6:30 PM. The PTO is serving walking tacos. Come and join us with your family.

RED RIBBON WEEK: Jan 16-19. Dress up days: Monday - Pajama Day, Tuesday - Neon Day, Wednesday - Twin Day, Thursday - Spirit Day.
Due to weather ALL Oakley schools/buses will be IN SESSION with a 2 hour delay today, December 15.

Dec 20 - Caroling / Dec 21 - Christmas Program / Dec 22 - 12:30 Dismissal / Dec 23 to Jan 2 - Vacation / Jan 3 - School Resumes

No School November 23 - 25 for Thanksgiving Break.

Veteran's Day Program - Thursday November 10th at 10 AM. Everyone is welcome. Vets, please come in uniform if you can.


Cassia County School District Parent Night - Tuesday November 1st, 7 - 8 PM in the King Fine Arts Center. Ray Lozano will be speaking about the dangers of vaping and marijuana.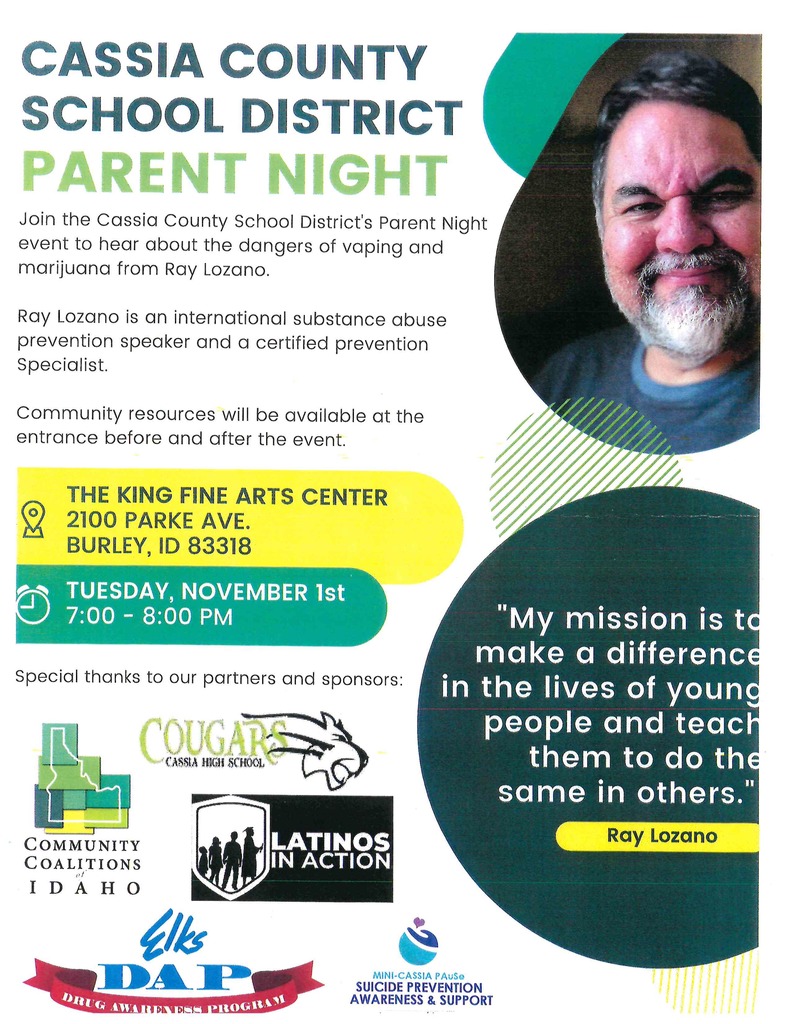 Dental Sealants at OES Oct 19 & 20.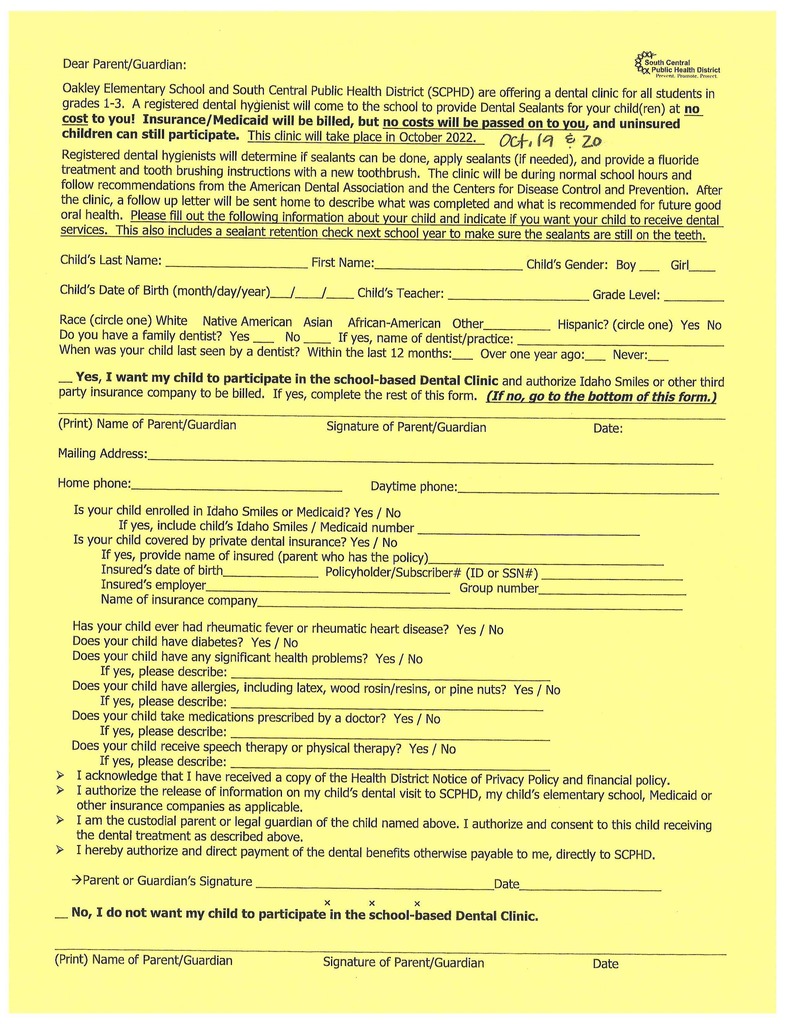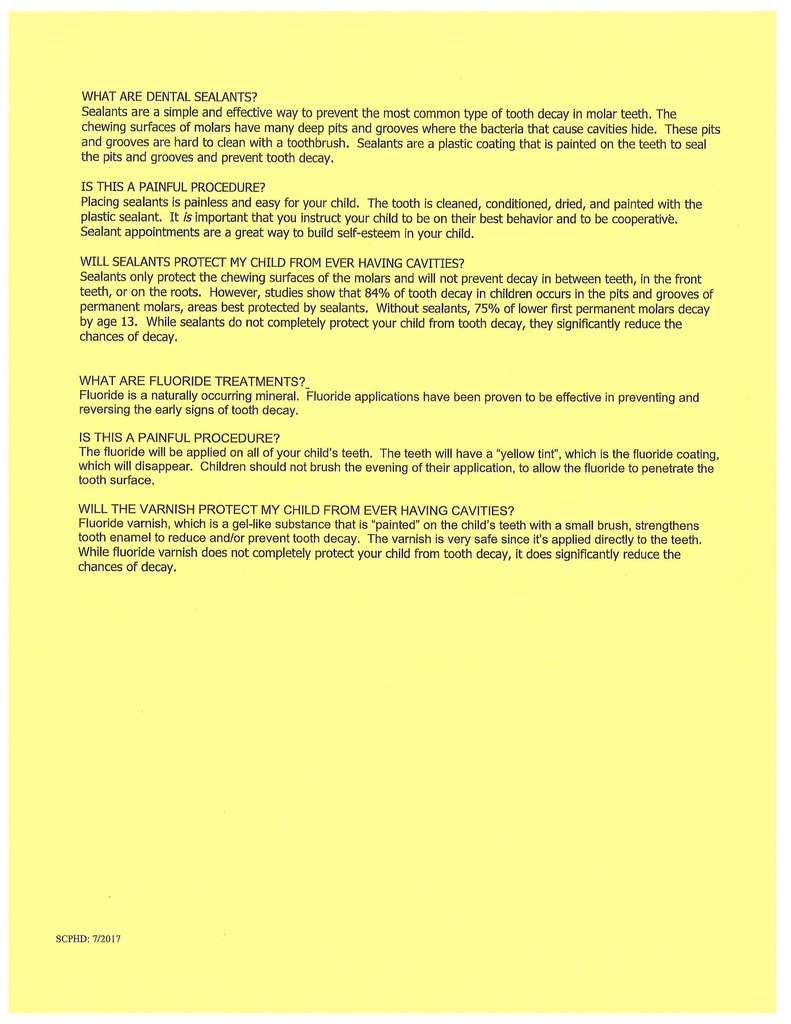 OES Book Fair 2022 Mon Oct 31, 2022 – Fri Nov 4, 2022 The OES book fair will be on October 31st-November 4th from 9:45am-4:00pm. We are in need of volunteers to help manage the book fair. Click on the link to sign up. You can sign up for more than one shift if you are available. Thank you! This book fair wouldn't be possible without our volunteers!!
https://signup.com/go/pzZnFon

Mini-Cassia Realtors are hosting a Winter Coat Drive on October 12th at CAL Ranch from 11 am-2 pm. Please donate any slightly used or new coats, hats, gloves, or winter boots. Let's help people keep warm.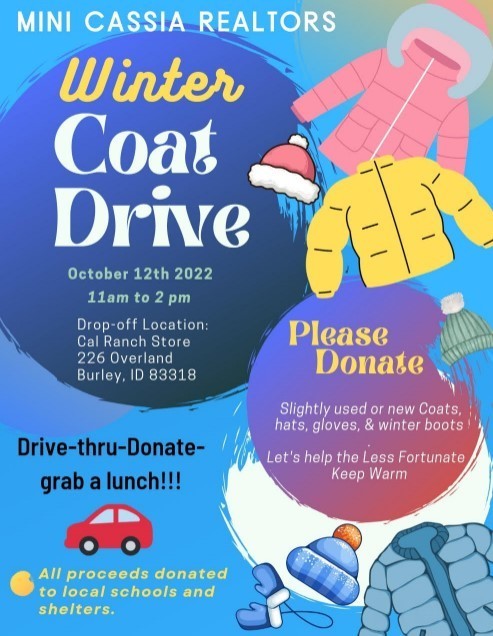 El Departamento de Salud y Bienestar de Idaho lo ayudará a pagar la calefacción y la electricidad. Puede averiguar si es elegible y presentar su solicitud en línea visitando
www.capai.org
o comunicándose con una de nuestras Agencias de Acciones Comunitarias. Para obtener más información, visite nuestro sitio web en healthandwelfare.idaho.gov.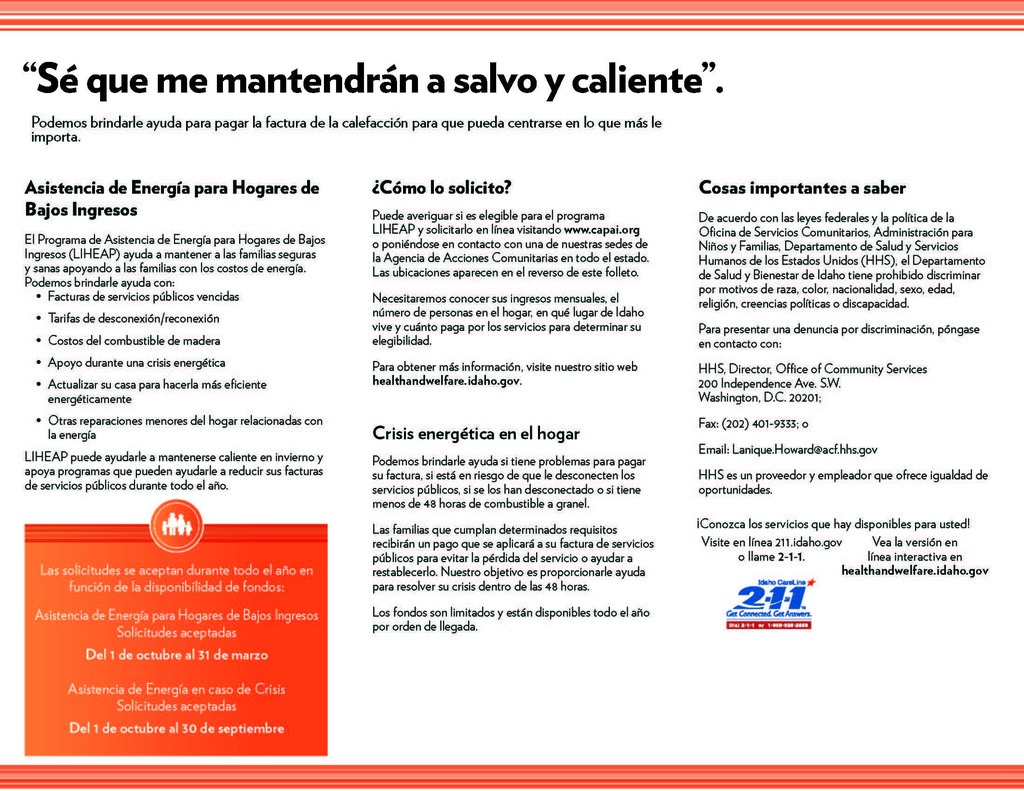 The Idaho Department of Health and Welfare will help you pay for heating and electricity. You can find out if you are eligible and apply online by visiting
www.capai.org
or by contacting one of our Community Actions Agency. For more information visit our website at healthandwelfare.idaho.gov.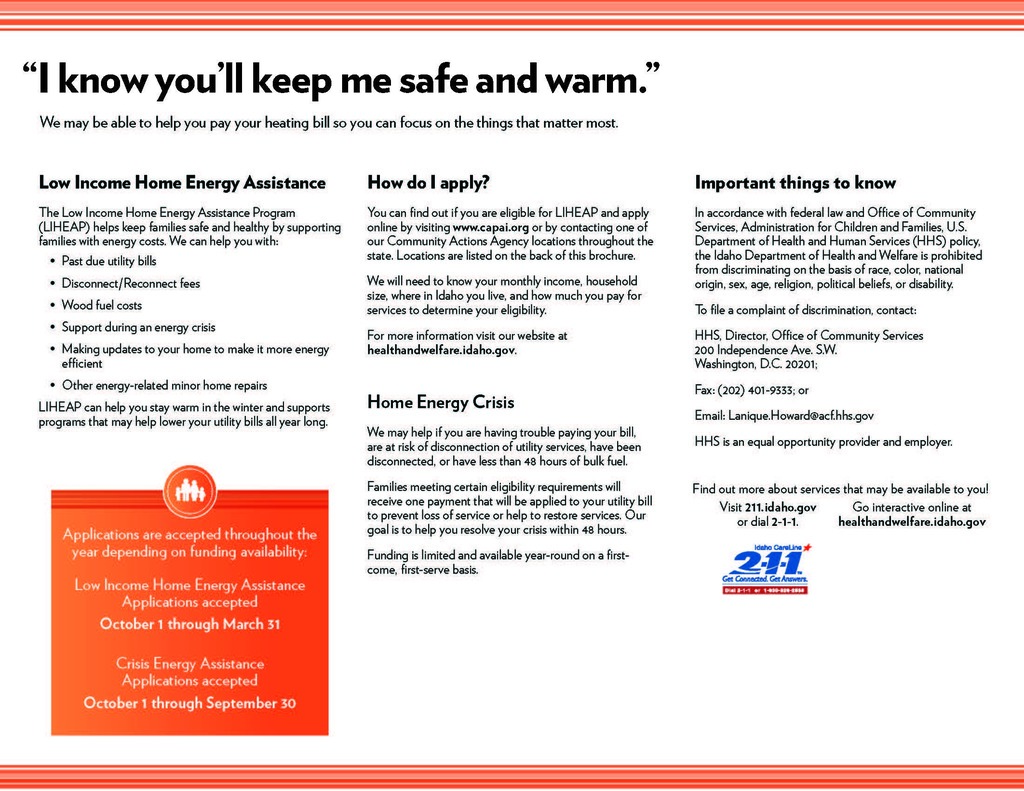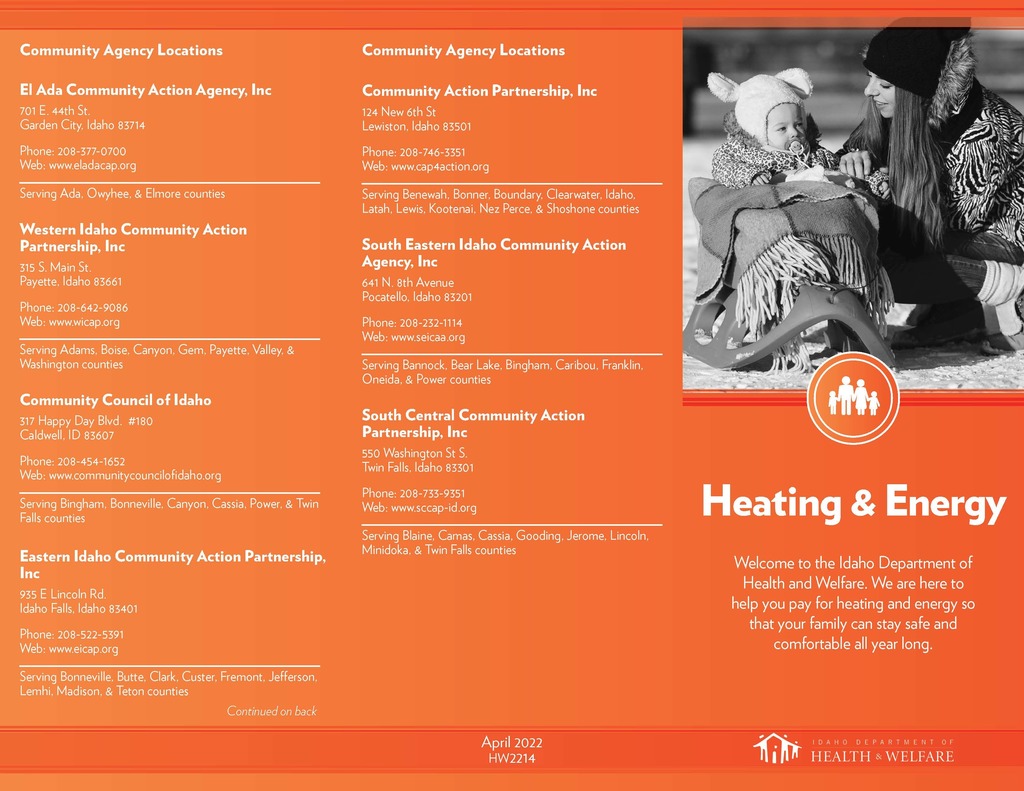 Get help paying for household water and wastewater services. Find out if you are eligible and apply online by visiting
www.capai.org
or by contacting your Community Action agency.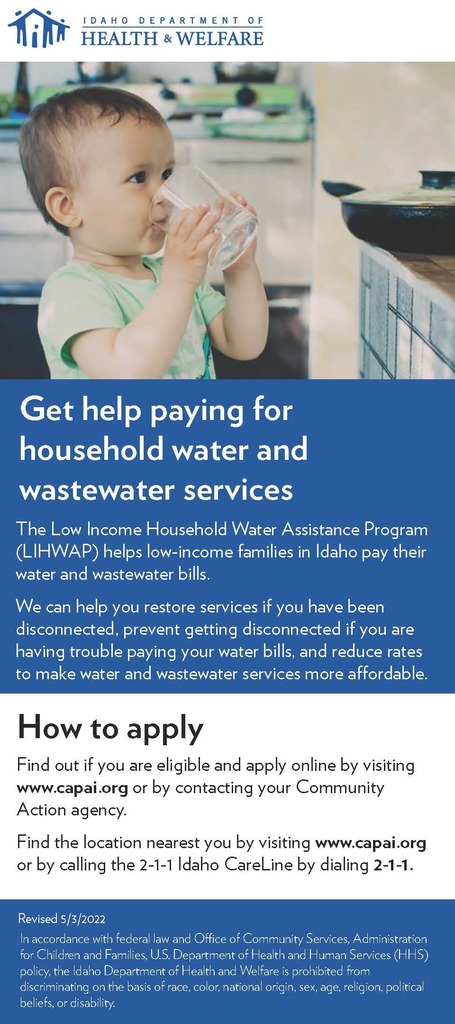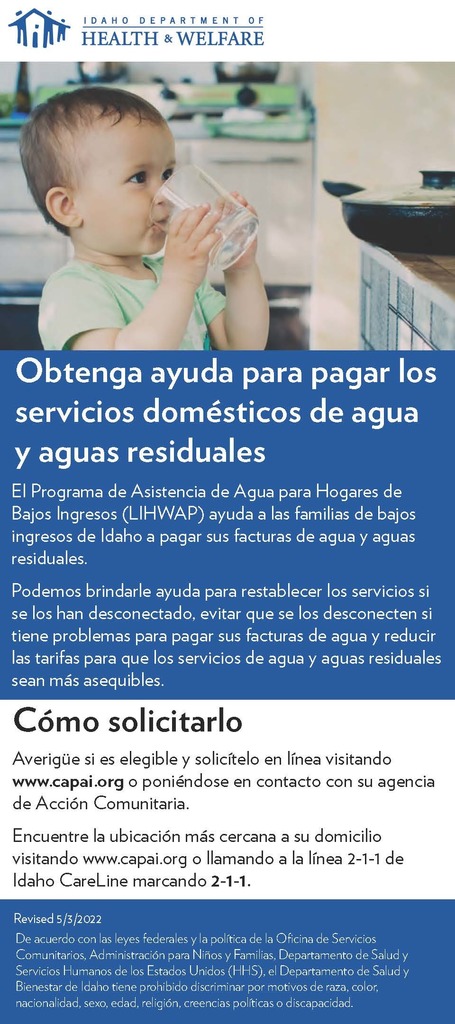 OES Children's Choir. Annalisa Arnell will be rehearsing on Tuesdays with a Christmas Children's Choir. Students 7+ will meet from 3:30 - 4:30 in the music room. Rehearsals begin October 11 and end November 15.