Where does our money come from and how do we spend it?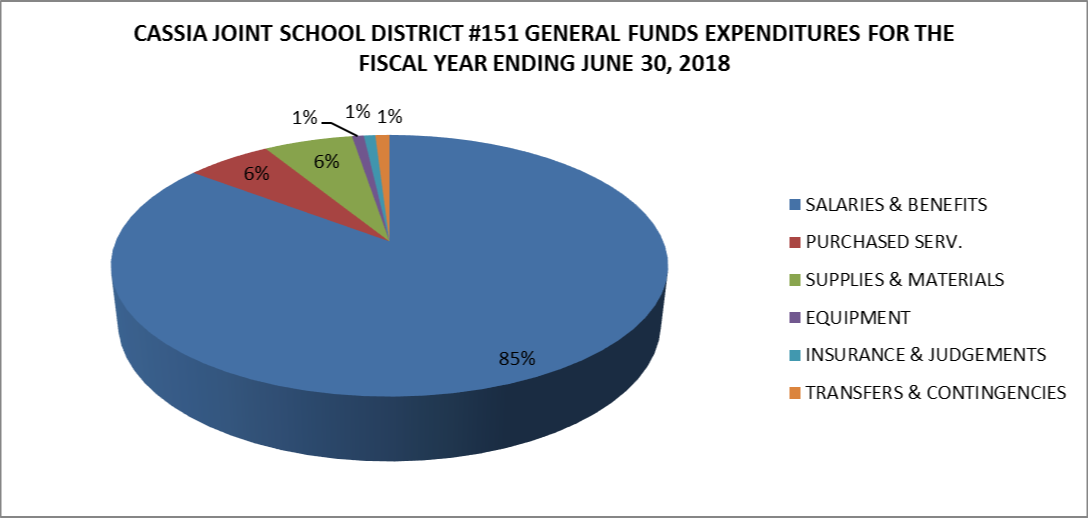 PLEASE NOTE: To access a particular document, simply click the category
to expand and display the list of resources in that category. Click again to contract the listing.
We get money from the state of Idaho, the federal government, and local property taxes. It's all taxpayer money, but it's distributed through different channels for different purposes.
The bulk of our general fund is from the state of Idaho and it is used for salaries and benefits. The state of Idaho has a career ladder and teacher salaries are funded according to where a teacher falls on the ladder, based on their time in the profession. Our general fund comes primarily from the state and 85% of all our general fund goes to pay salaries and benefits.
$44 million is our total budget (federal, state, local taxes)
$33 million goes to salaries and benefits
Operational Funds after salaries and benefits we have around 25% of our budget or $11 million left to operate on.
2% - $1 million goes to utilities (electric, gas, water, sewer, garbage, and phones)
6% - $2.8 million goes towards repaying the construction bond
4% - $1.8 million goes to purchased services (such as travel, professional development, contracted labor, copier leases, etc)
3% - $1.5 million on capital equipment and major repairs
2% - $1.1 million for liability insurance and fund transfers
That leaves only 6% of our budget for supplies and materials
6% - $2.8 million goes to purchase supplies (such as text books, classroom supplies, computers, software, office supplies, custodial supplies, etc)
We do this to attract and retain quality teachers and increase classroom and facility support staff.
We have 5600 students housed at 17 schools (soon to be 18).
When you look at our budget, and it appears "$44 million dollars is a lot of money." And it is, but only $7 million of that has acutal flexibility in spending and most of that is restricted to specific programs such as special ed, migrant, english learners, career technical, or school nutrition.
Supplemental Levies, support the operational/discretionary spending of school districts. The majority of things you notice in day to day school life are paid for from discretionary funding. Trustees analyze their budgets every year and have public hearings to get input on how to spend the smallest portion of their total budget.
Levies offset shortages and help boost budgets that directly impact students.
For more information, contact us at webmaster@cassiaschools.org